Join Our Team
Here are our latest Job Opportunities at the Clanard Court Hotel.
***We are a certificed GREAT PLACE TO WORK***
NEWS April 2023
The highest certification available to a business in the Fáilte Ireland Employer Excellence Programme has been awarded to us!
We are an Outstanding Employer for 2023.
'Congratulations on receiving this accolade which honours not only your dedication to making your business a rewarding and appealing workplace but also your positive contribution to the tourism industry'
LATEST & STILL AVAILABLE JOB OPENINGS
6th September 2023:
BAR PERSON position available
CVs and Application to cdunne@clanardcourt.ie
We are currently recruiting for an experienced Bar Person to join our amazing Team.
The ideal candidate must have at least 2 years' experience in a busy bar and food outlet.
Teamwork & flexibility is required.
Ideal Candidate must have:
• At least 2 years' experience in a busy Bar and Restaurant
• Excellent standards & must complete tasks to the SOP's as set by Bar Manager/Supervisor
• Excellent attention to detail & Customer service skills
• A positive attitude towards staff training and development
• A strong work ethic with emphasis on teamwork.
• Fluency in English - both written and spoken
• Excellent communication & inter-personal skills
Benefits:
• Kidares No.1 rated hotel on TripAdvisor.
• Flexible working & Structured time off.
• Additional Benefits for working late nights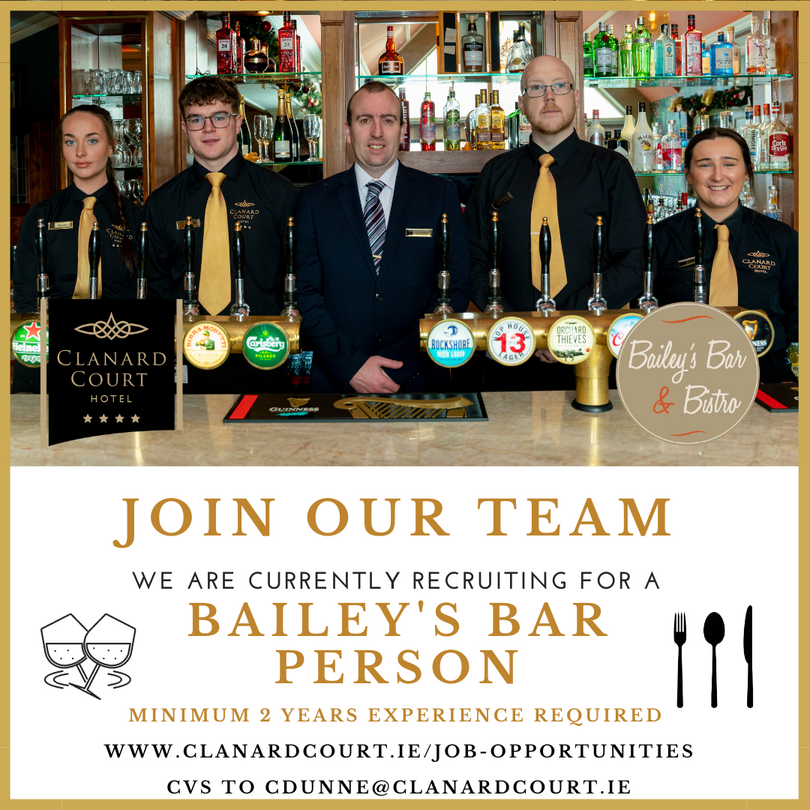 6th June 2023:
BAILEY'S BISTRO STAFF - full-time position and to work midweek & weekends is a requirement
CVs and Application to cdunne@clanardcourt.ie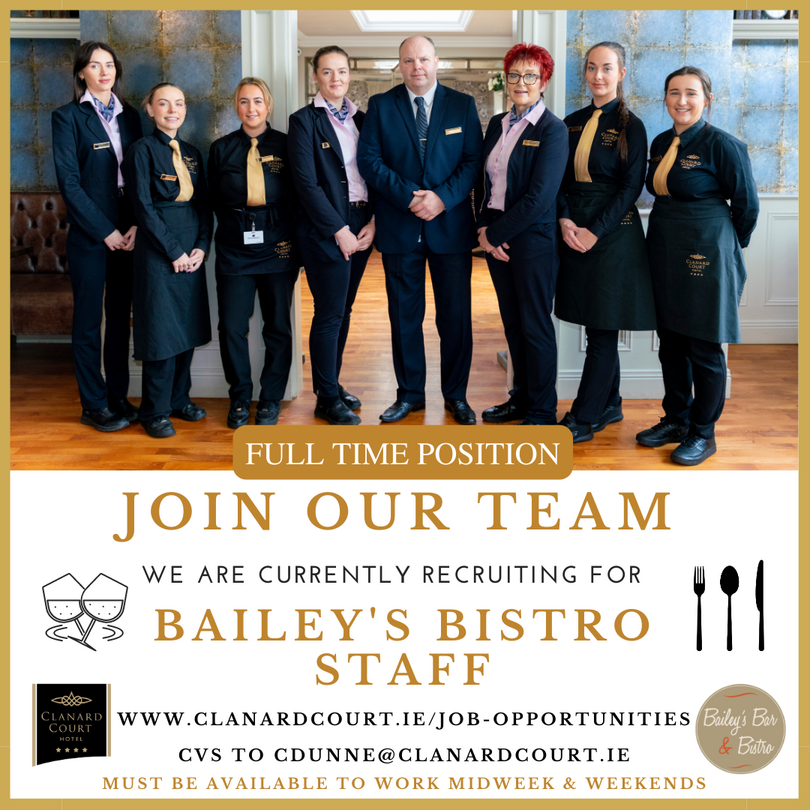 Do please also Register Your Interest for any future opportunities, detailing what role you are looking for and attaching your CV to cdunne@clanardcourt.ie
4th April 2023:
CHEF DE PARTIE position available - 4 days a week
CVs and Application to cdunne@clanardcourt.ie